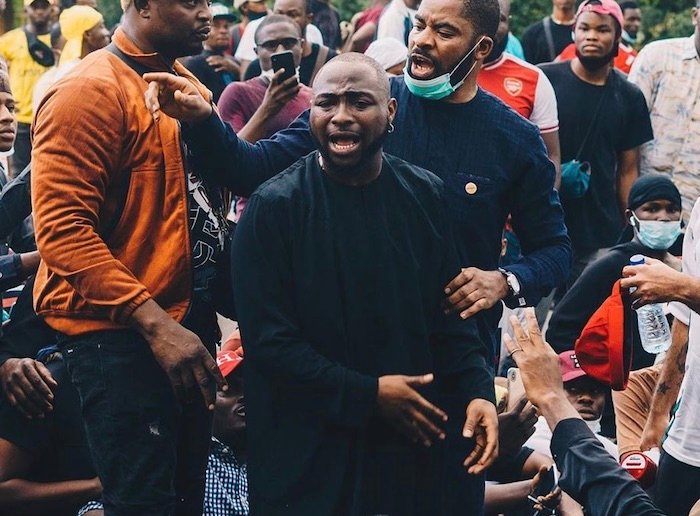 It's been two weeks since Nigerian youths began pouring out into the streets. Their one demand? That the Special Anti-Robbery Squad, infamously known as SARS, be scrapped. This squad, a unit of the Nigerian Police Force, was originally tasked with detaining and prosecuting those involved in crimes like armed robbery and kidnapping. Now, people are […]

The post Franklin Ugobude: The Role Of Music In the #EndSARS Protests appeared first on BellaNaija - Showcasing Africa to the world. Read today!....
Published By: bellanaija - Thursday, 22 October
Older News

#endsars - IG Adamu, Top Officers Strategise Against Threat of New Protests News,.,

(Yesterday) - [This Day] -Inspector General of Police: Those planning to come up with another violent protest should re-think; we are prepared to face them...

Keep VAT Out Of #EndSARS All News.

(Yesterday) - The Senate stirred the hornet's nest recently when it suggested that the federal government should set aside one percent of the Value Added Tax (VAT) proceeds as compensation for Lagos...

Kogi records over N40bn losses from #EndSARS Protests Kogi

(Yesterday) - Richard Elesho/ Lokoja Like other states of the federation, Kogi State has been counting its losses to the #EndSARS protests. The state government has reported a loss of more than...

CACOVID Provides Activity Updates, Reveals Plans To Empower Youths, Businesses All News.

(Yesterday) - The Coalition Against COVID-19 (CACOVID), a private sector alliance formed for the sole purpose of eradicating coronavirus from Nigeria, has announced updates of its fully owned activities as well as...

#EndSARS: Panel summons James Nwafor, ex-SARS leader accused of extra-judicial killings Daily News.

(2 days ago) - In the aftermath of the #EndSARS, Mr Nwafor was named as a major culprit in majority of the petitions submitted to the panel.The post #EndSARS: Panel summons James Nwafor, ex-SARS...

Nigerian ISPs Blocks 3 Websites Related To #EndSARS Protest Press Release

(2 days ago) - … have been inaccessible to Nigerians without a Virtual Private … letter showing that (the Nigerian Communications Commission) asked a … help block 21 websites in Nigeria,'' it said, adding...

Summon Fashola to explain Lekki toll gate camera, #EndSARS lawyer tells panel Lagos

(2 days ago) - Counsel for some #EndSARS protesters' Mr Adesina Ogunlana, on Friday said he would apply that the Minister of Works and Housing, Mr Babatunde Fashola, be summoned by the Lagos State...

#EndSARS related websites inaccessible Daily News.

(2 days ago) - A digital rights group believes the websites have been deliberately targeted by the government for playing an active part in the #EndSARS protestsThe post #EndSARS related websites inaccessible appeared first...

#EndSARS: NDF Hails UK Parliament's Intervention, Says Its Testament Of Nigerian Army's  Progress All News.

(2 days ago) - The National Democratic Front (NDF) has welcomed the United Kingdom's parliament's intervention on the EndSARS protests in Nigeria, describing it as confirmation of the Nigerian Army's progress under Chief of...

EndSars:Engage Youths To Avoid Protests , PMB Tells Women All News.

(2 days ago) - By Jonathan Nda- Isaiah, Abuja President Muhammadu Buhari has stated that Nigerian women are stabilizers of peace in all parts of the country.   He made the declaration yesterday when...