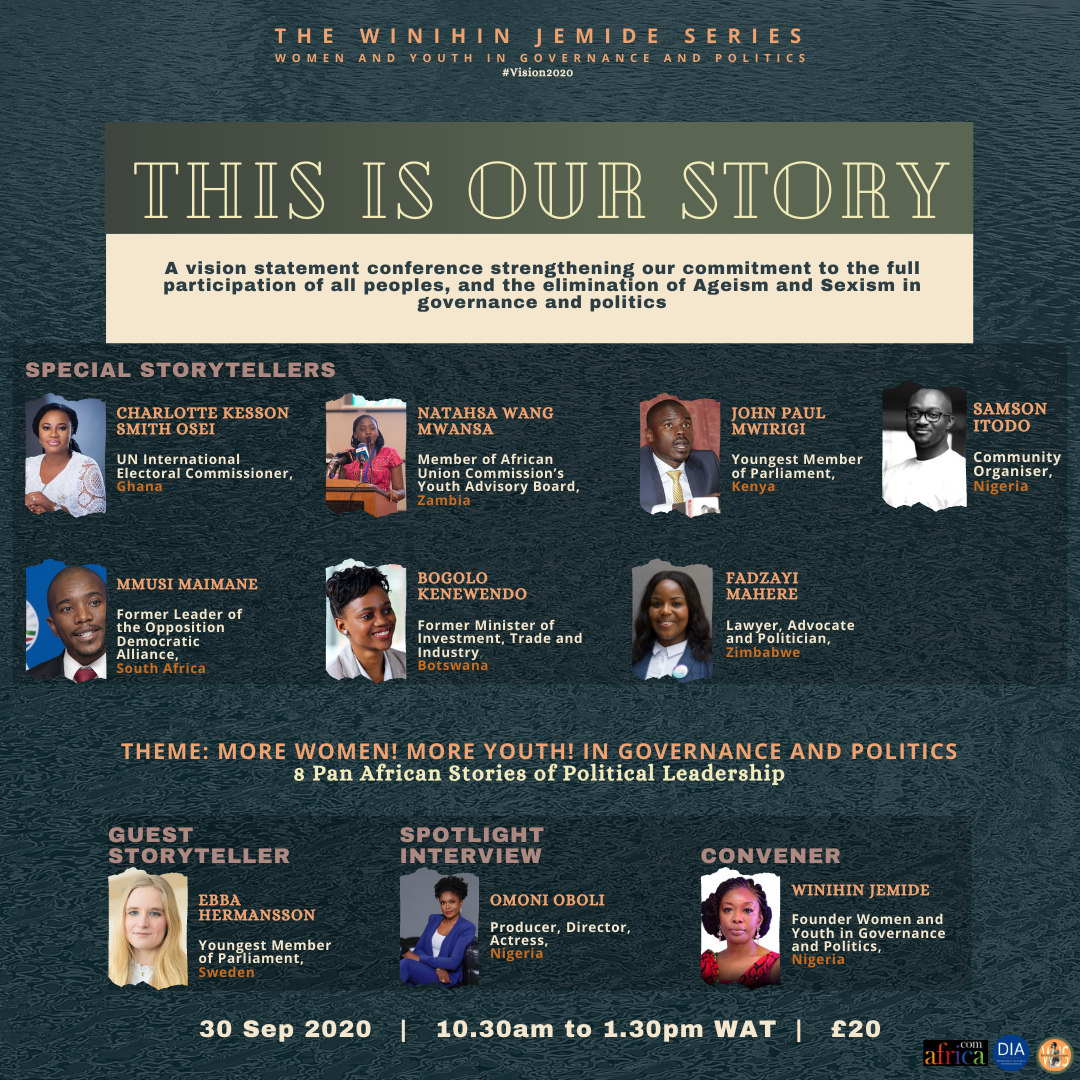 We are currently in an era where everyone is becoming more aware of the imbalance and segregation that exists in various sectors of the world, especially in the areas of politics and governance. Fueled by the desire to balance the scales the Winihin Jemide Series is set to host their Women and Youth in Governance […]

The post More Women! More Youth! Winihin Jemide Series set out to Change the Narrative of Politics in Africa | September 30th – October 1st appeared first on BellaNaija - Showcasing Africa to the world....
Published By: bellanaija - Friday, 18 September
Older News

Here's Episode 8 of Bovi's Comedy Web Series "Banana Republic" bellanaija

(Today) - On episode 8 of Bovi's comedy series, the President of the Federal Republic of Nigeria has to unravel a case of stolen funds. Enjoy: ?The post Here's Episode 8 of...

Watch Episode 1 of Neptune3's "Table for Two: A Series of First Dates" New Series bellanaija

(Today) - Watch episode 1 of  Neptune3's new series "Table for Two: A Series of First Dates". This episode is titled "Instagram Queen." "Table for Two: A Series of First Dates" is...

#EndSARS: Nigerian Women Condemn Attack On Protesters All News.

(Yesterday) - Nigerian women drawn from the six geopolitical zones in the country have condemned the alleged killing of protesters by security agents. The women numbering about 1,400 expressed their grievances during...

Lekki Toll Gate Killings: How President Buhari, Nigerian Army And Lagos State Government Connived To Kill Peaceful #EndSARS Protesters In Lagos Press Release

(Yesterday) - … to how President Buhari, the Nigerian Army and the Lagos State … on October 20, 2020, when Nigerian soldiers opened fire on peaceful … counter the false narrative the...

BREAKING: 6 Youth Shot Dead In Ilorin As General Buhari Says "I'm Not Weak" newsrescue

(3 days ago) - NewsRescue Another six Nigerian youth have been shot dead in Ilorin, capital of Kwara state Friday. Video's captured youth lying dead in their blood. The youth were allegedly raiding the...

Nigerian youth blacklist Atiku and his peers, and there are reasons for this Press Release

(3 days ago) - … everyone that has led Nigeria since its democratic dispensation … form the #EndSARS protests, Nigerian youth have been turned off … , Choose Atiku and get Nigeria working again!...