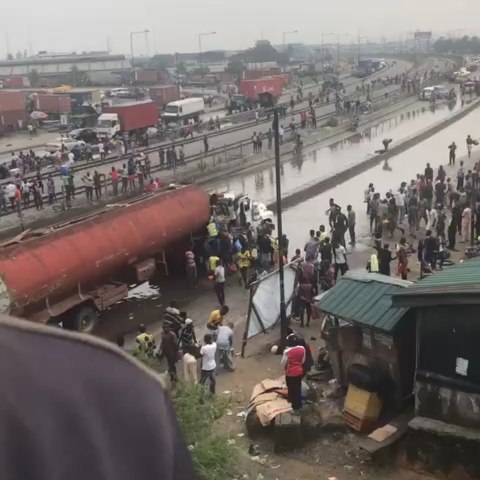 Some desperate residents around the Mile 2 area of Lagos state have crowded a leaking tanker in a bid to scoop its content. In a very risky move, they scooped petrol from what looks like a punctured part of the tanker. Watch the video: View this post on Instagram People seen scooping petrol from a […]

The post People Scoop Petrol from Tanker at Mile 2, Lagos | Watch appeared first on BellaNaija - Showcasing Africa to the world. Read today!....
Published By: bellanaija - Tuesday, 15 October
Older News

Kogi: Five killed, many injured as petrol tanker crushes many vehicles [VIDEO] Daily News.,

(Yesterday) - It was black Monday morning for residents of Felele under Lokoja Local Government as no fewer than five persons were confirmed dead as a result of an accident which involved...

Five dead in Lokoja's petrol tanker accident Lokoja

(Yesterday) - No fewer than five people have perished in a petrol tanker accident at Felele axis, along the Abuja-Lokoja highway. The petrol laden tanker coming from the Lagos end, apparently with...

8 dead, 7 injured as petrol tanker crush 3 cars, 4 tricycles in Lokoja Lokoja

(Yesterday) - The accident involving 4 Tricycles, 2 motorcycles 3 Cars and a bus occurred at Felele community along Lokoja-Abuja highway. An eye witness, who identified himself as Moses Johnson, told our...

PHOTOS: Three feared dead as fuel tanker explodes in Lokoja Lokoja

(Yesterday) - Three persons were feared dead after a fuel tanker suffered brake failure in Felele area of Lokoja, Kogi State. An eyewitness, Sunday Patrick said that the incident happened on Monday...

Petrol-laden tanker explodes in Osun, three buildings razed Osun

(2 days ago) - Three buildings were razed down in the Ajebandele village, Osun State, on Sunday, as a tanker laden with petrol exploded there. Investigation by PUNCH Metro revealed that the tank compartment...

What's it like Dating in LA? | Watch Taje Prest prepare for Date Night bellanaija

(2 days ago) - Media personality and vlogger Taje Prest is back on YouTube after taking a long break. In this episode of her vlog, Taje gives a scoop of how she gets ready for...

Petrol tanker falls in Onitsha, causes multiple crash Owerri

(2 days ago) - A tanker conveying petroleum products on Sunday fell along Owerri/Onitsha Expressway by Tarzan junction, Onitsha, causing multiple accidents in the area. DAILY POST gathered that the accident occurred ......

'Benue: All federal roads in deplorable condition' Benue

(2 days ago) - Excerpts We observed that all the federal roads in Benue State are currently in deplorable condition. They therefore need urgent intervention. In August, a petrol tanker fully loaded with PMS...

15 perish as petrol taker explode, razing Osun community Osun

(2 days ago) - An early-morning inferno occasioned by petrol tanker explosion on Sunday razed Ajebamidele community along Ondo road in Ife South Local Government Area of Osun State, leading to the death of...

Curbing Anambra's rising tanker accidents Asaba

(3 days ago) - However, before the incident, a human rights activist had warned about the location, and cautioned that based on the earlier tanker fire accident at the Asaba Park, which claimed about...