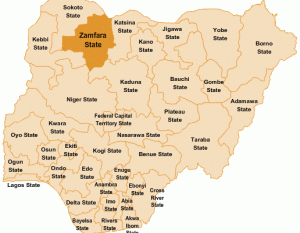 For a while now, Bandits have been terrorizing villages in Zamfara state and it isn't getting any better. To protest these killings, over 100 people have gathered round the Zamfara government house with the dead body of one Shafiu Inusa, who was killed while applying fertilizers on his farm. According to PM News, 100 villagers […]

The post PM News: Villagers Drop Corpse at Zamfara Government House to Protest Bandits Killings appeared first on BellaNaija - Showcasing Africa to the world. Read today!....
Published By: bellanaija - Saturday, 20 July
Older News

Boko Haram Kills 12 In Niger Village Attack News.,

(Yesterday) -  At least 12 persons have lost their lives in a village in Niger State after Boko Haram insurgents attacked the community on Friday.The attack in the border district of Gueskerou,...

Bandits Continue Killing Spree in Katsina News,.,

(Yesterday) - [Daily Trust] Katsina -Last Sunday was another sad day for many communities in Katsina State following the invasion of their homes by bandits who killed many people and inflicted life...

Enugu Community Blames Fulani Herdsmen For Alleged Raping, Killing Of 67-Year-Old Woman News.,

(2 days ago) - Armed Fulani herdsmenArmed Fulani herdsmenA 67 years old woman, Mrs. Regina Mba, has been allegedly raped andkilled at Nchatacha-Nike in Enugu East local government in Enugu stateresulting in a protest...

Uproar Over Shoot to Kill Policy News,.,

(2 days ago) - [CAJ News] Abuja -Civilsociety organisations in Nigeria fear the army could commit extrajudicial killings after President Muhammamadu Buhari ordered the military to "eliminate" bandits....

Despite protest by PDP members, Oyo Assembly screens 27-year-old Fakorede as commissioner Daily News.,

(2 days ago) - Scores of members of the Oyo State chapter of the ruling Peoples Democratic Party (PDP), on Thursday stormed the state House of Assembly complex to protest against the nomination of...

Herdsmen killings: Gov. Ugwuanyi directs council chairmen to mount security checkpoints Daily News.,

(3 days ago) - The Enugu State Government has condemned in its entirety, the alleged murder of a woman in a farmland at Nchatancha community in Emene, Enugu East Local Government Area. In a...

Protest in Enugu after murder of woman Enugu

(3 days ago) - The mutilated corpse of a woman, Pat Ngwu, from Ndiuno Nchatancha community in Emene, Enugu State, was on Thursday found by a stream after she had gone missing the previous...

Woman tortures daughter to death, escapes with corpse from hospital Ondo

(3 days ago) - The police in Ondo state on Thursday said they were trailing a woman who allegedly tortured her daughter to death and later escaped with her corpse from the state specialist...